Bright Box provides a variety of services to make Sheffield's windows brighter. We don't follow a one-size-fits-all rule, but rather appraise each job individually. We always conduct a site visit and provide customers with relevant information about best choice of practice. Most properties are cleaned using deionised water and water-fed poles. For some properties, ground-floor only, we may use traditional hand-washing techniques - scrims and squeegees. For health and safety reasons we never use ladders. Interiors, too, are cleaned with scrims and squeegees.
Residential properties
Bright Box cleans all types of residential properties from terraced houses and bungalows to large detached houses and apartment blocks (up to 40ft). Upon arrival we will briefly examine the property, the position of the windows, the condition of the windows, and access. We will then begin cleaning the windows using a trolley-based water-fed pole system. We start with the frames ensuring all dirt is sluiced away and then scrub the glass with soft-bristled brushes. The windows, frames and sills are then rinsed with deionised water. After the windows are cleaned, we will scrub and rinse the doors. All windows are inspected before departure. Most residential properties are cleaned monthly or bi-monthly.
Signage
It is important for any business owner to maintain the condition of signage. Signs deteriorate rapidly if not cleaned regularly and despoil the overall presentation of the premises. Bright Box recommends cleaning signs monthly to avoid permanent discolouring. They are always cleaned with water-fed poles, or - if accessible without ladders - with uPVC cleaner.
Commercial properties
Bright Box cleans a wide variety of commercial properties from small independent retail outlets to restaurants, public houses and large retail stores. Liasing with management staff we will firstly establish how often the property needs cleaning (usually weekly or fortnightly) and when. We are happy to provide early cleans and out-of-business hours if required. Ground floor retail outlets are usually cleaned the traditional way, with scrims and squeegees. Large retail stores and office blocks are cleaned with water-fed poles.
Conservatories
Bright Box is often asked to clean conservatories, sometimes as a stand-alone assignment or as part of a whole house clean. We firstly pole-wash the frames and sills and any stubborn dirt is scrubbed off with uPVC cleaner. We then pole-wash the glass. We also consider requests for cleaning conservatory roofs depending on the height and angle. Algae and moss are a common feature of ageing conservatories. It can usually be pole-washed.
Nursing homes
Bright Box is contracted to clean several nursing homes in the Sheffield area. We work quietly, attentive to the special needs of the occupants. Health and safety is paramount when operating equipment in nursing homes and we ensure all apparatus is positioned out of harms way. We always operate at a time agreed with management staff ensuring smooth delivery of service. We offer a flexible approach to the cleaning process, either pole-washing the whole exterior, or pole-washing the upper floors and hand-washing the ground floor.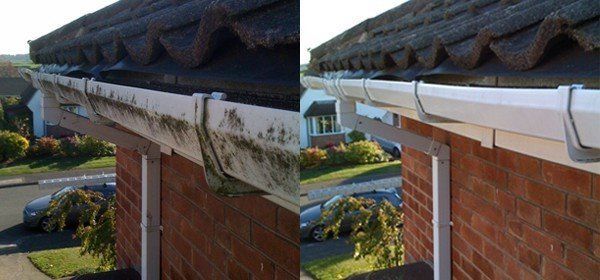 uPVC and gutters
uPVC detoriates if not cleaned regularly. Weathering and solar radiation gradually discolours the polymer turning it brown or yellow. To ensure the long-life of uPVC an annual clean is recommended. Bright Box cleans uPVC with water-fed poles and stubborn dirt with uPVC cleaner (if reachable by hand).